Guild
Guild:
Category:
Website:
Created On:
2015-10-07 00:06:06
Members:
63
Manager:
Collections:
Browse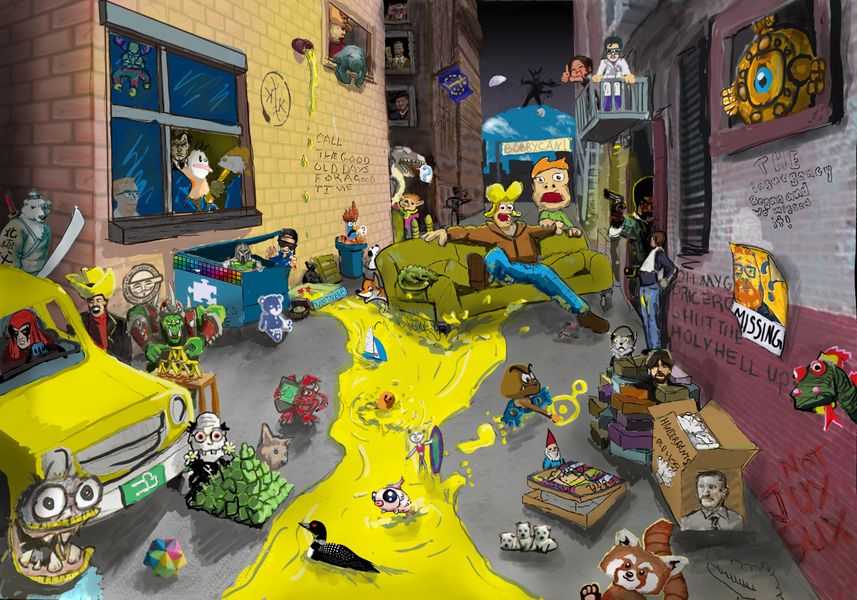 This is a guild for GeekQuestioneers and the probing crap they query.
To be a member, you must know the GQ song by heart:
We represent the lollipop guild, the lollipop...
Ok maybe there isn't a song. But there should be. Anyway, to be a member, you must know the three most important questions facing humankind today:
1) Coke or Pepsi? COKE
2) How do I get GeekGold? 42
3) [something about Uranus](obligatory question mark) What is the connection to Alexander Pope?
Don't screw this up, because we've got yellow cards at the ready.

GeekQuestions Addict?

How do you get GeekGold?

Uranus - coldest planetary atmosphere in the solar system
42 - The answer to Life, the Universe and Everything

Yellow Card!

Bean's List fan

GQs: Back alley denizen of the month?

Twenty-one Fifty to headquarters!

Ask The Next Question

Peek Frean fan

Mango lover!

This mango is off!

Everyone should have a water softener in their microbadge collection!

Thumb Pyramid Builder

Fallout Shelter fan
---
---
GQ Participation Awards (No purchase necessary, unless you want the badge, then you have to purchase it.)
Questions


Copper GeekQuestioneer ("I have asked over 100 GeekQuestions")


Silver GeekQuestioneer ("I have asked over 250 GeekQuestions")


Gold GeekQuestioneer ("I have asked over 1000 GeekQuestions")


Platinum GeekQuestioneer ("I have asked over 2500 GeekQuestions")
Answers


Copper GeekQuestionaut ("I have answered over 1000 GeekQuestions")


Silver GeekQuestionaut ("I have answered over 2500 GeekQuestions")


Gold GeekQuestionaut ("I have answered over 10000 GeekQuestions")


Platinum GeekQuestionaut ("I have answered over 25000 GeekQuestions")
Long Service Awards


GeekQuestioning since 2005 ("Asking and answering GeekQuestions since 2005")


GeekQuestioning since 2006 ("Asking and answering GeekQuestions since 2006")


GeekQuestioning since 2007 ("Asking and answering GeekQuestions since 2007")


GeekQuestioning since 2008 ("Asking and answering GeekQuestions since 2008")


GeekQuestioning since 2009 ("Asking and answering GeekQuestions since 2009")


GeekQuestioning since 2010 ("Asking and answering GeekQuestions since 2010")


GeekQuestioning since 2011 ("Asking and answering GeekQuestions since 2011")


GeekQuestioning since 2012 ("Asking and answering GeekQuestions since 2012")


GeekQuestioning since 2013 ("Asking and answering GeekQuestions since 2013")


GeekQuestioning since 2014 ("Asking and answering GeekQuestions since 2014")


GeekQuestioning since 2015 ("Asking and answering GeekQuestions since 2015")


GeekQuestioning since 2016 ("Asking and answering GeekQuestions since 2016")


GeekQuestioning since 2017 ("Asking and answering GeekQuestions since 2017")


GeekQuestioning since 2018 ("Asking and answering GeekQuestions since 2018")


GeekQuestioning since 2019 ("Asking and answering GeekQuestions since 2019")


GeekQuestioning since 2020 ("Asking and answering GeekQuestions since 2020")
GQ Cons


PolarDad's OkieCon 2020 ("OkieCon attendee")
GQ Historian Thread - Memes R' We