Guild
Guild:
Category:
Website:
Created On:
2012-01-18 03:14:24
Members:
210
Manager:

Aron Clark

United States
San Jose
California

Collections:
Browse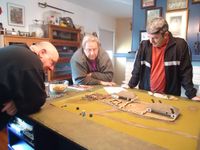 Welcome to the Miniature Wargaming Guild. If you're gaming in miniature we would like to hear about it, traditional miniature wargames and board games with miniatures are discussed here.
Current BGG entries for Miniature Wargaming can be found here.
This page does not exist. You can edit this page to create it.