Guild
Guild:
Category:
Website:
Created On:
2012-02-13 02:03:56
Members:
11
Manager:

Peaceful Gamin'

Canada
Vancouver
BC

You found our Geekbadge Overtext. Congratulations! :-)

Gaming is fun. And this is a hypercube. The sun is shining

Collections:
Browse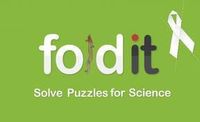 Foldit is not just a game, but a contribution to science as well! The concept behind foldit is based on proteins that are found in plants and animals (including humans). These proteins will fold themselves into certain ideal shapes that allow them to interact with the human body. However, because many proteins are so complex, it is hard to determine the ideal shape. This is where Foldit comes in. The game poses the player with several proteins, and it is up to the players to see if they can find the most efficient way to fold it up based on real biological rules.
By presenting these proteins as puzzles to human players, the creators of Foldit hope to supplement their computer-based tests with the skills of human problem solving, and possibly even find new ways to optimize programs that determine protein folding patterns. This can have benefits ranging from understanding how the human body works to treating or even curing diseases.
The game allows players to fold alone, work with others' solutions (known as evolvers), or form groups to work together. There are also high score tables for groups, solo players and evolvers.
This program was created by programmers and engineers at the University of Washington, including members of the UW Center for Game Science and the UW Department of Computer Science and Engineering.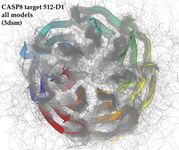 Website of the program and where you can get an account:
http://fold.it/portal/
And our group page:
http://fold.it/portal/node/991828
A good video of why this is a cool (and worthwhile) activity:
http://www.nature.com/news/victory-for-crowdsourced-biomolecule-design-1.9872?WT.ec_id=NEWS-20120124
Note: There is a second club here at BGG/VGG/RPGGG, namely Folding@home (http://www.boardgamegeek.com/guild/742 - also a great endeavour, check it out), whereby users can use their CPU/GPUs to calculate likely protein fold structures.
In FoldIt, users actually take over the part of the processing unit, and play a puzzle game. The highest score indicates the most likely protein structure and may get published.
See the group wiki for further details, and add your username there yourselves, in the right category: http://boardgamegeek.com/wiki/edit/FoldIt
You can also purchase a microbadge:



And there is a free award microbadge for all that have at least one point contributed in a real science puzzle:


Add you names to the Wiki for getting the microbadges (and occasionally bug user salish99 if nothing happens right away...).